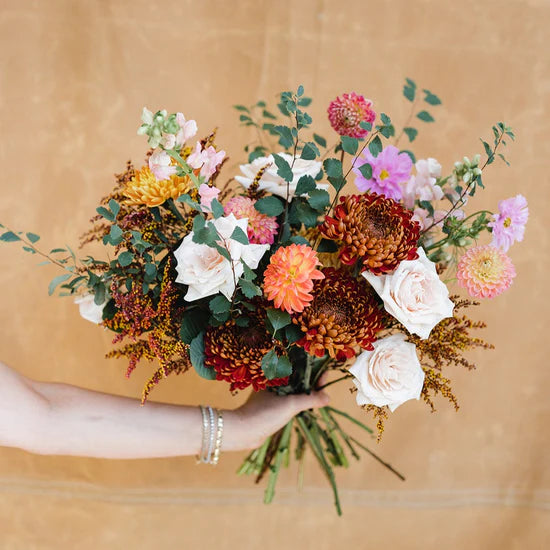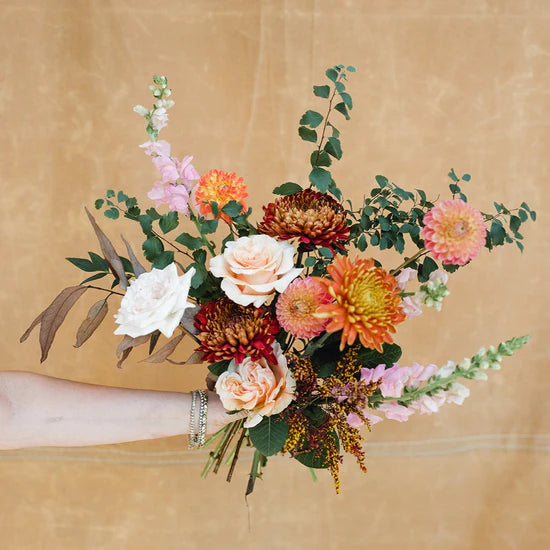 Our Pluck Buddy subscription is a pay-as-you-go subscription option for the ultimate fresh flower lover who wants a fresh bouquet of flowers on a regular basis. 
Subscription renewals are automatically processed on your preferred renewal cadence of weekly, bi-weekly, or every four weeks and prepared for pickup or delivery on your preferred day of the week. Pluck Buddy Subscriptions include a 10% discount from our standard bouquet pricing. We require a minimum of 2 renewals after the original purchase before subscription cancellations can be processed. Flexibility is key and subscribers can modify bouquet type or renewal frequency at anytime. 
--------------
Bouquets will be a 'florist's choice' mix of flowers. Photo are representative of our varying bouquet sizes. Bouquets will be presented hand-tied and wrapped. Our floral designers will flex their design skills to provide a unique bouquet every time! Our shop primarily partners with local growers to provide the best selection of just-plucked blooms in gorgeous, seasonal color palettes. It's truly a florist's dream to design bouquets with a rotating selection of blooming beauties - so trust us, you're going to be delighted every time!

Pluck Buddy subscriptions are available for delivery or store pickup. At checkout, you will select the the first delivery or pickup day for the flowers. Renewal notifications will be emailed 2 days advance of your next renewal processing. Renewals are processed on Sundays, and once processed, your subscription will be scheduled for your preferred delivery or pickup day. 
For additional information, please review our subscription programs FAQs.
Plus, the Pluck Buddy perks go beyond just flowers: Receive an additional 10 percent discount on in-store shopping, workshops, and delivery.
She Loves Me offers deliveries on Wednesdays, Thursdays, Fridays and Saturday.  The order cut off for deliveries is 3:00 the day prior. A delivery fee based on your location will be added at check out. Your order will arrive between 12-3 p.m. The recipient will receive a text message and live tracking details when the delivery is on its way. If you need your order by a certain time, please leave a note for us at checkout! Please see a list of our full delivery FAQs for further details, including a complete list of zip codes we service.